-Six-
Six began his aviation career in the US Marine Corps.  A H-1 mechanic and a quality assurance specialist by trade, Six has held multiple positions with increasing authority within the Marine aviation and Air-Ground task force communities. Six brings both military experience and near-worthless trivial knowledge to the show. 
-MBP-
You can say aviation has been in MBP's blood since day one.  Hailing from Ohio, the birthplace of aviation, the Man-Bear-Pig found himself travelling all around the industry and countries abroad, becoming skilled in all forms of aviation from corporate jets to space flight systems.  Constantly sought for his advice, quick decision making, and his ability to lighten up any room, MBP has helped many technicians through some hard situations and even harder laughs. 
-Shoreline-
Easily the smartest of the three, Shoreline is next level wizard when it comes to audio production and live sound.  After graduating with an audio degree, Shoreline has been vital to the success of every major venue he's been a pat of.  With the wave of his hand, Shoreline is able to turn almost any rudimentary recording into an audio masterpiece.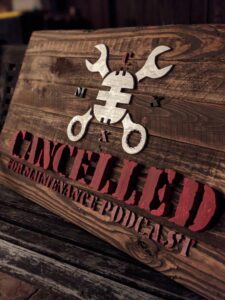 Cancelled for Maintenance finds its roots in the constant demand for perfection in Six, MBP, and Shoreline's line of work. The pressures from both the aircraft maintenance and audio industries can wear any person down. Six, Shoreline, and MBP were constantly sought out for their expertise; offering help in many ways from physically assisting in each task, to giving advice and lending an ear to give that small moment's reprieve from the stresses of work. It was in these near therapeutic acts, they created the Cancelled for Maintenance podcast, to not only share the stories of their industry, but to bring to light the lesser-known life of aircraft maintenance, the people who keep planes flying safely, and to offer that split-second's reprieve in someone's day that it may prevent a mishap.